English Tutor 2022 Recruitment for FYP B2026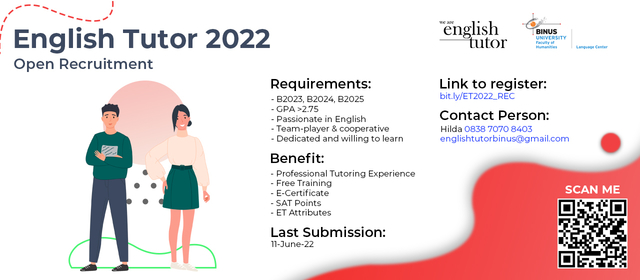 Are you the one we are looking for?
If you are:
📝 Binusian 2025, 2024, 2023
📗  with GPA >2.75
💫 passionate about English
🙌 Team-player and cooperative
👩‍🏫 Dedicated and willing to learn
Join us as the English Tutor for First Year Program (FYP) B2026!
By becoming an English Tutor, you will get lifetime opportunities to get to know and experience teaching and communicating in English with the freshmen and fellow tutors. Plus, you can get tangible benefits, including:
👩‍🏫 Professional tutoring experience
👥 Free training
🏅 e-certificates
⭐ SAT points
✨ ET attributes
Register by clicking bit.ly/ET2022_REC no later than June 11, 2022.
Should you want to learn more about the program, please click here .
SEE YOU! 🥳🥳