English Foundation
About
English Foundation (EF) course is an intensive 6-day mandatory subject for freshmen whose BUEPT score is lower than 457. The EF course focuses on the core languages skills specifically equipping students with useful TOEFL test-taking strategies which will be useful to get a high TOEFL score. Although this course has no credit, it is still mandatory for students to attend and complete this course as completion of FEP Program.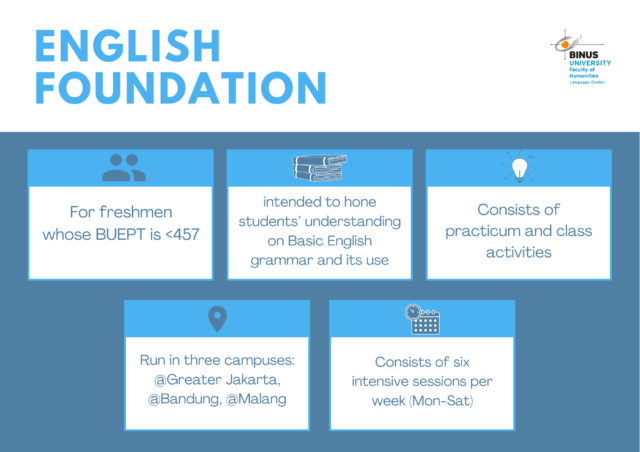 Learning Outcomes
On successful completion of this Course, students will be able to:
LO1: Identify the sentences and clauses
LO2: Apply the verbs, nouns and pronouns
LO3: Analyze problems with adjectives, articles, and prepositions
Topics
Sentence with One and Multiple Clauses
Reduced Clauses and Inverted Adjectives & Verbs
Form of the Verbs
Problem with Nouns and Pronouns
Articles and Prepositions
Problems with Usage and Adjectives
To access our learning videos, click here.