International Workshop: "Stand Out in Your Next Interview"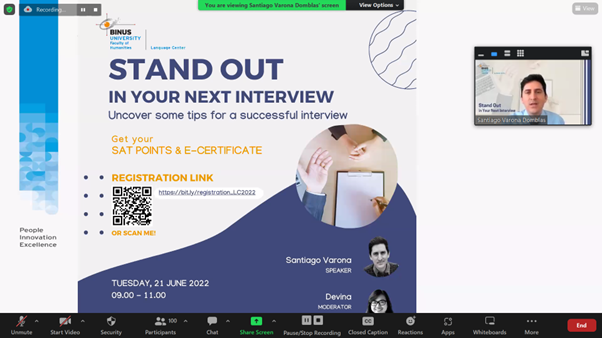 Language Center hosted an international workshop "Stand Out in Your Next Interview" on Tuesday 21 June 2022. Aiming to enhance students' competence in interviews, the workshop addresses the CAR (context, action, result) method, the rule to answer behavioral interview questions while answering questions for an interview. A number of 90 students join the lively discussion.
The speaker, Mr. Santiago Varona, asked the students to join practice and discussion for a 2-hour duration. Then, participants are asked to join breakout room sessions four times, allowing full practice and transfer of knowledge in group discussions.
It is highly hoped that participants can apply the CAR method in their upcoming interviews.